ACW's Women Empowerment Program - Empowering Female Teachers to Lead Africa's Digital Revolution
Back by popular demand, Semester 2 of Africa Code Week's Women Empowerment Program (WEP) officially kicked off this October. This Continuing Professional Development (CPD) program equips African female teachers and educators in Computer Science and STEM with the skills and knowledge they need to successfully teach, inspire, mentor, and prepare girls for tomorrow's tech workplace. The WEP thereby supports ACW's ambitious plans to transform the continent's education system by including digital literacy in national curricula – in line with the work of UN SDGs 4, 5 and 17.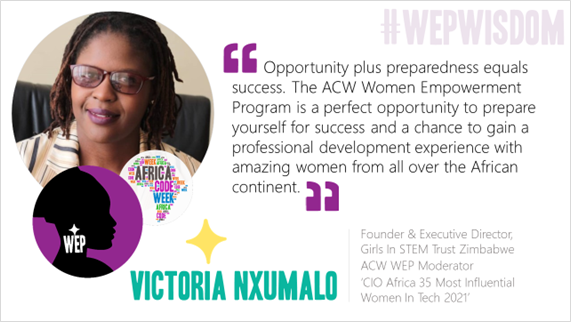 Female teachers' role has never been greater.
Research suggests that female teachers increase girls' test scores and their likelihood of staying in school. Beyond academics, female teachers can also heighten girls' aspirations and lower their likelihood of being subject to violence. The WEP was first launched in 2019 by SAP, UNESCO, Irish Aid, the Moroccan Ministry of National Education, and Camden education as a joint response to bridge the digital gender gap and related pressing issues across Africa. The program actively supports female teachers on their leadership and mentoring journey while providing a safe learning platform for them to explore current barriers to girls' education. They also develop innovative ideas to overcome these barriers, honing a wide array of tools and skills along the way - from Design Thinking and storytelling all the way to animation and digital tools.
Taking place over six weeks with live interpretation in English and French, the ACW WEP workshops also involve global advocates for girls, policymakers, scholars, pedagogues, and change-makers from organizations such as SAP, UNESCO, DCU, Global Partnership for Education, Innovation Academy and many more. These expert speakers unpack multiple ways to transform learning through virtual and digital tools. Two weeks ago, the program welcomed Vanessa Sinden, an award-winning film producer from the Cape Town based Triggerfish animation studios, for one inspiring 'Storytelling and animation in the classroom workshop.
Innovation in Education : tackling Africa's unemployment challenges
Recent studies also show that animation strengthens learning and makes the teaching–learning process fun. Educating students through moving motion pictures and drawings can significantly enhance their performance, reducing failure and other challenges such as the high dropout rate. The introduction of animation in learning could also trigger interest and passion for animation early in a pupil's life, stimulating it as a viable career opportunity across Africa. As a result, this could potentially curb the continent's high unemployment rate, with the African animation market growing by around 7% during 2015-2020 and is expected to boom post the COVID-19 pandemic.
WEP 2022 Semester 2 participants presented their team projects on Girls' Health Education and well-being supporting SDGs 3, 4 & 5at the November 10th graduation ceremony, in front of the WEP Alumnae and a high-level panel with:
Claire Gillissen-Duval, CSR EMEA Senior Director and Co-founder of ACW at SAP.
Ilham Laaziz, GENIE Program Director, Ministry of National Education, Morocco.
Carol Hannon, Development Specialist, Department of Foreign Affairs, Ireland.
Jackline Oluoch-Aridi Director of the Nairobi Global Centre, Notre Dame International, University of Notre Dame.
After graduation, the WEP journey continues as each participant is invited to grow further through a structured leadership and upskilling pathway, from first-time participant all the way to program co-moderator. With over 450 alumnae from 40 countries, the WEP continues to strengthen and support ACW's mission of reaching all corners of Africa, ensuring that no child is left behind in the digital era.
To learn more about Africa Code Week and the Women Empowerment Program, visit www.africacodeweek.org or read WEP's latest news on LinkedIn.