Back by popular demand, our Africa Code Week Women Empowerment Program continues to grow in acclaim and success. Since 2019, this unique Continuing Professional Development (CPD) program has been equipping African female educators with the skills and knowledge they need to successfully teach, inspire and prepare girls for tomorrow's tech workplace.
Our aim is to close the digital gender gap and help ensure that everyone plays a role in shaping Africa's future in the Fourth Industrial Revolution. To do this, we bring together teachers to foster an educational, collaborative, and innovative environment that supports the Sustainable Development Goals 3 (Good Health and Well-being), 4 (Quality Education), 5 (Gender Equality) and 17 (Partnerships for the Goals).
Research captures evidence of panellists sharing digital expertise, and Research provides evidence of the use of the event / workshop methodology and group work to support educators address 'health, community, education, technology and policy' barriers to girls education, with educators using the program as a platform to amplify their stories and experiences.
Improving digital skills one teacher at a time
During COVID-19, teachers around the world had to adapt to new circumstances and technology. But most teachers in Africa found that technology was the biggest barrier they faced when it came to teaching their students online. This is because before COVID, many African teachers had received little or no technology training. As a result, they had to adapt and innovate to support learners, parents and caregivers so that learning could continue, despite the uncertainty caused by the virus.
At Africa Code Week, we seek to ensure that the advantages of the global digital economy are available to all, and female teachers are the gateway to this. Our program improves their digital skills, which is vital especially as digital learning is here to stay. This, in turn, will support female teachers to ensure that their students get the education they need to take on 21st century jobs. For instance, WEP participants are applying digital skills and using the design thinking process to create projects that respond to SDG 3, 4 and 5 challenges.
A strong progression model
Research also revealed that the ACW WEP provides an accessible online context for female educators to continue in their professional development during a period of significant educational change, and uncertainty, due to the global COVID-19 pandemic. In other words, we are making waves and we are not slowing down. Following the 2021 program, 295 graduates are now part of our community of female leaders across 38 African countries.
To keep the momentum, the first seven-week series of 2022 kicked-off in February, bringing together 70+ African women teachers and leaders to share best teaching practices, learn new skills, and create an ongoing community of practice. The program also provides high-level professional development for participants in the areas of leadership, communications, digital skills, design thinking, global citizenship, and resilience. This season, participants leveraged the WEP methodology and group work to address the 'health, community, education, technology and policy' barriers to girls' education' while learning how to amplify their stories and experiences.
Lastly, from participant to country host, the ACW WEP offers a progression model that provides a structured leadership pathway for every participating teacher.
Building female leadership in African education
Our acclaimed WEP panel discussions provide a platform for intelligent discussion and open debate. Global advocates for girls, policy makers, scholars, change makers: this season brought together high-level experts from SAP, Irish Aid, the Global Partnership for Education, the Moroccan Ministry of National Education, Deloitte, and Maynooth University.
Equally famous is the WEP Teachers' Corner, where the most inspiring stories can be heard from heroes working wonders on the field: female teachers who inspire generations of girls to become more than they thought they would be. This year again, their voices were heard on social media and they even got to take part in a short-story-telling challenge for International Women's Day.
We look forward to elevating the role of women in digital education, innovation, and mentorship in Africa this year and beyond!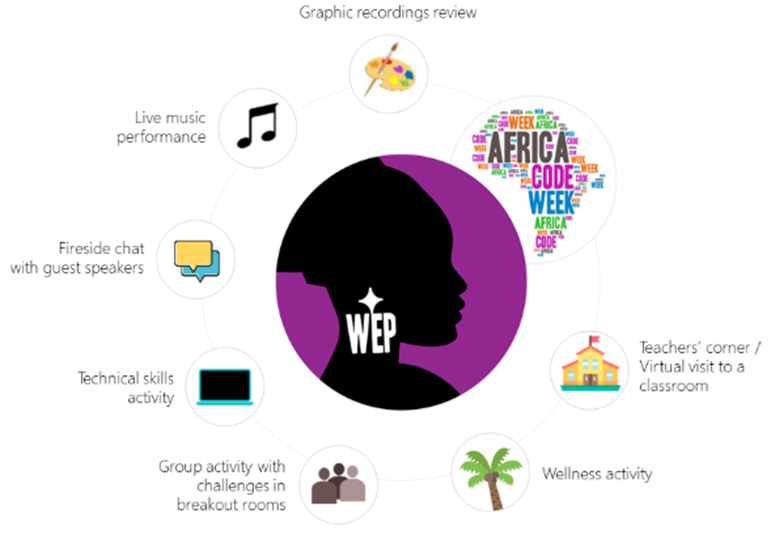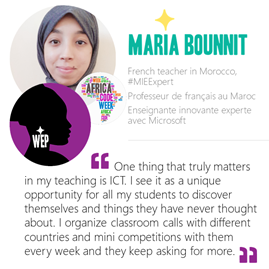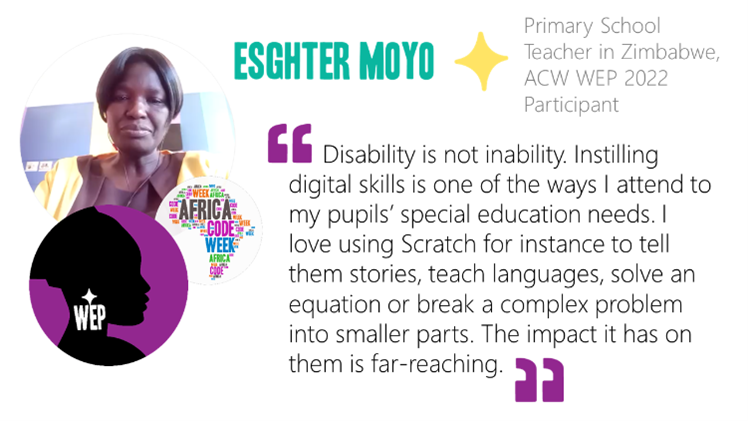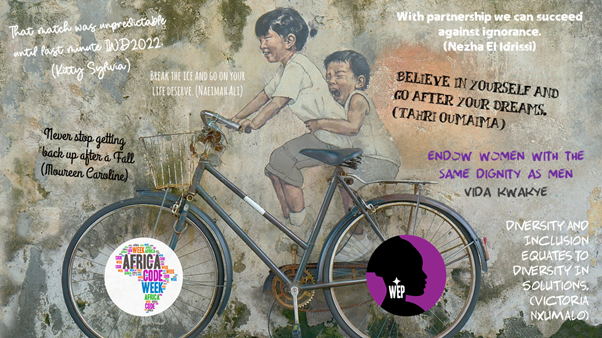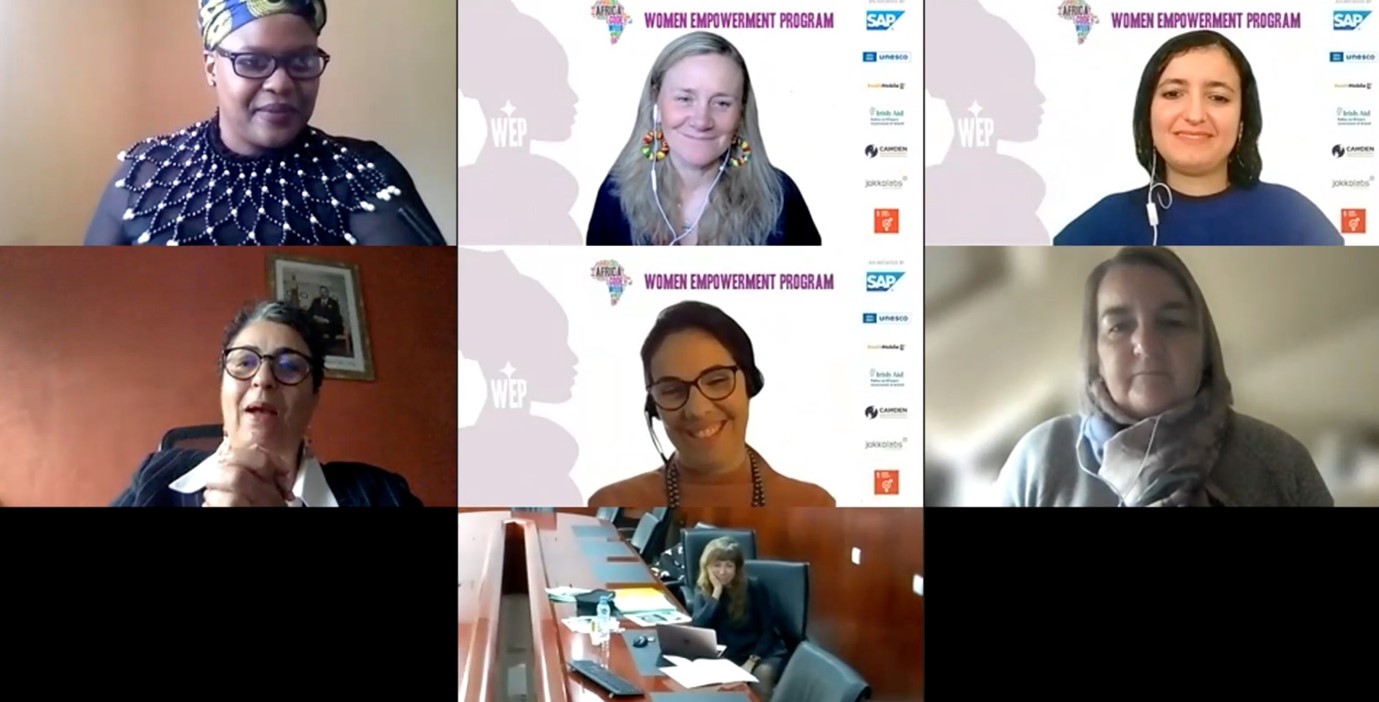 March 10th Ceremony: Expert Panelists Claire Gillissen-Duval (SAP), Carol Hannon (Irish Aid), Ilham Laaziz & Amal Hassoun (Moroccan Ministry of Education) with WEP 2022 Co-Moderators (Vickie Nxumalo, Hafida Essardi, Nadine Ferris-France and Hala Ali).
ENDS