To commemorate Cameroon's annual Youth Day on 11 February 2023, thousands of young people took to the streets to celebrate through parades, cultural dances, singing, and sporting events. As part of the festivities, over 100 young people marched across two different locations, Yaounde and Maroua, carrying the Africa Code Week (ACW) banner.
"Every year, we use this day to honour all the young people in Cameroon and embrace the importance of education," says
Jérôme Monteu Nana, ACW Ambassador
. "ACW has played a critical part in advancing our education system as well as empowering and equipping young Cameroonians with the skills they will need for the future. By carrying this banner, not only do we shine a spotlight on ACW, but we also remind young people that more work can be done when we all join hands and collaborate."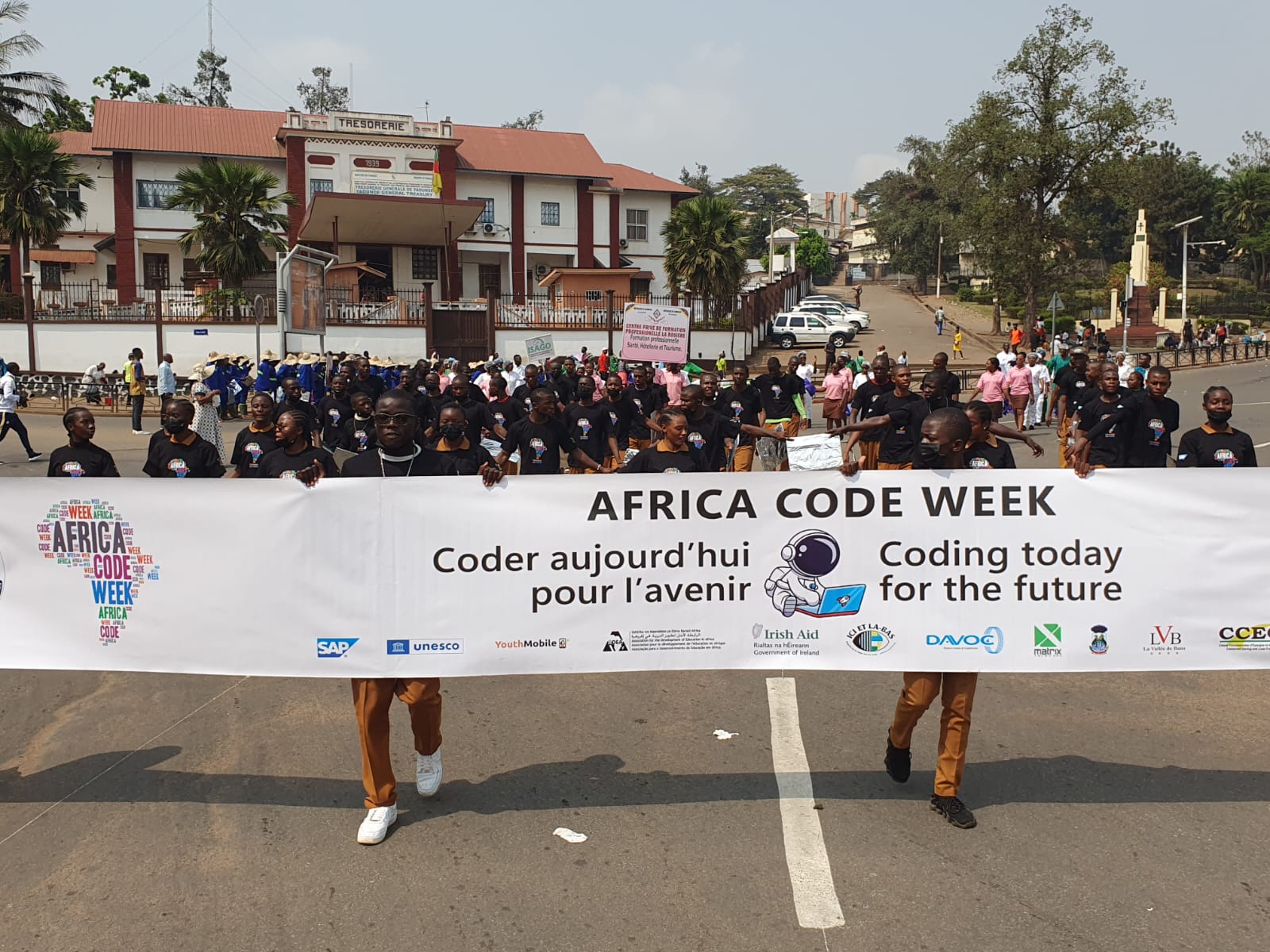 The importance of equipping young people with digital skills in Cameroon
Recent figures suggest that the youth unemployment rate in Cameroon has remained nearly unchanged at around 6.64 percent for over two years. However, according to projections, Africa's digital economy will reach $180 billion by 2025 and $712 billion by 2050.
Commenting on the job opportunities created by digital advancements, Claire Gillissen-Duval, Senior Director of Corporate Social Responsibility EMEA MEE at SAP and co-founder of ACW says that Cameroon cannot afford to have young people missing out due to the lack of necessary skills for the digital economy.
"We are excited, however, to announce that positive strides are being made and in 2022 alone, with the help of the government, ACW managed to reach nearly 900 000 children in the country. We will continue to provide support to governments across the African continent with the necessary tools to prepare the youth with the skills needed for the future of work."
ACW's big plans for Cameroon and Africa
Towards the end of 2022, ACW, in partnership with the Association for the Development of Education in Africa (ADEA) and the United Nations Educational, Scientific and Cultural Organization (UNESCO), hosted a three-day event with a number of African governments in Morocco.
"This was the start of a bigger vision which calls for governments to play a bigger role in encouraging the use of coding in schools by implementing the ACW program into their curricula," says
Julius Fomboh
, Inspector General of Pedagogy in charge of Computer Science Education and member of the ACW transition taskforce." "Over the past eight years, millions of young people from 48 African countries have been empowered with digital skills through their participation in ACW," he adds. "In order for the continent to successfully equip young people with the skills required for the future, all stakeholders need to come together and unite." "Now, our impact will be bigger and better," Fomboh concludes.