It takes an empowered village to raise a child in the digital age: Africa Code Week is instilling digital literacy and coding skills in the young generation, working closely with private, public and non-profit partners to drive sustainable learning impact across Africa.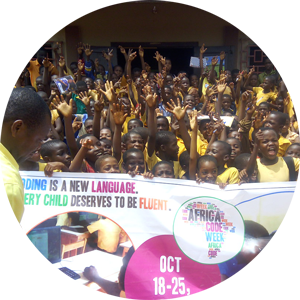 Spearheaded by SAP in 2015 as part of its social investments to drive sustainable growth in Africa, Africa Code Week is a digital skills development initiative that has benefitted over 4 million young Africans so far.
In October 2016, SAP CEO Bill McDermott told World Leaders: "SAP has embraced the view that training workers for a digital economy is our corporate responsibility. Going further, we believe that leading companies have a moral obligation to initiate people into the modern economy, regardless of where they come from."
He added that "the digital economy offers an unprecedented opportunity to bring private and public sector together, because there is a direct link between a region's digital adoption and its overall economic competitiveness. An opportunity of this magnitude is more than just a benefit, it's a necessity."
Indeed. Strong partnerships with the public, private and non-profit sectors are the driving force behind the initiative's ambitious goals and ability to build community capacity in ICT education across an entire continent.
Africa Code Week is now actively supported by UNESCO YouthMobile, 28 African governments, over 130 implementing partners and 120 ambassadors across the continent. SAP also works closely with UNESCO to increase girl participation in ACW workshops.